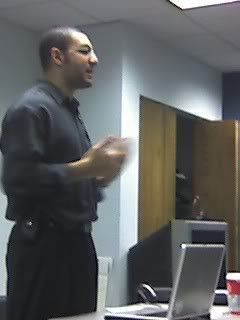 Today I heard Ahmed Rehab of Council on American-Islamic Relations Chicago [2] presented to some 50 leaders and staff of immigration-related nonprofit agencies on media relations. It was awesome to be in the audience, what I wrote down highlights of course the most important issue: context.
Backdrop matters: When a producer or editor contacts him, he often says "Meet me in front of the mosque," Ahmed said: "It helps to see women and children living their lives normally [in the backdrop] because context is important."
Context defeats bias, Ahmed notes. Example: he's received coverage along the lines, "Muslim group condemns terror "—matched with a photo of a terrorist that inflames instead of advancing or clarifying the story he's trying to tell. On the other hand, in his experience, news reporters he has worked with don't have an agenda: "if they make a mistake or come from a context that's off, they may be biased, but not maliciously"—in other words, they may be unsconsciously reflecting some beliefs that they might not even be aware they hold.
I'm going to ask Ahmed if we can post up his presentation as a pdf download here because it's chock-full of tips but here's one example, his experience on the best and worst times for a news conference:
Best: 10 a.m. to 1 p.m. or 7 to 8:30 p.m.
Worst: 2-6 p.m.
Never: 4-5 p.m.
The other thing Ahmed shared about that I hope we can get him to share further thoughts on, is his extensive experience as a talk show guest with Bill O'Reilly, Michael Savage, and a whole bunch of hi-profile, low-road talkers.